Hello! here it is shown the most significant features and elements of our culture, discover and enjoy it! You will not regret it!
If you are planning visiting Bilbao, please, contact me on the right side of this site for more information even for a free guided tour.
¡Hola! Aquí encontrarás los elementos y las características más significativas de nuestra cultura, descúbrelas y disfrútalas, ¡no te arrepentirás!
Si estás planeando visitar Bilbao, por favor, ponte en contacto conmigo en la parte derecha de esta página para obtener más información, incluso para una visita guiada gratuita.
Basque is our ancient language, there are different theories about its origin, but noone knows certainly where it begun.
Click English version to see an interesting video about it.
El Euskera es nuestra antigua lengua, existen diferentes teorías sobre su origen, no obstante, nadie sabe a ciencia cierta donde comenzó.
Haz click sobre la versión en castellano para ver el vídeo acerca de ello.
If you still need further information about our language, please see the following video.
GASTRONOMY - LA GASTRONOMÍA

There is no better way to understand what the cuisine means for us than watching the following videos. Enjoy them!


Watch video 3
Watch video 4
No hay mejor manera para comprender lo que significa la cocina para nosotros que ver los siguientes vídeos. ¡Disfrútalos!
Cocina de autor
Sidrerías
MUSIC AND DANCE - MÚSICA Y DANZA
OUR SPORTS - NUESTROS DEPORTES
OUR PROFESSIONAL TEAMS · NUESTROS EQUIPOS DE ÉLITE
ATHLETIC CLUB REAL SOCIEDAD EIBAR
BILBAO BASKET BASKONIA
LANDSCAPES OF THE BASQUE COUNTRY
PAISAJES DEL PAÍS VASCO
URDAIBAI
SAN JUAN DE GAZTELUGATXE
ZUMAIA
OMA FOREST - BOSQUE DE OMA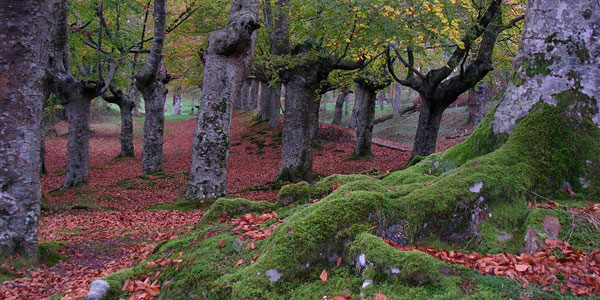 URKIOLA
DONOSTIA - SAN SEBASTIÁN
HONDARRIBIA
MOUSE OF GETARIA - RATÓN DE GETARIA
SIERRA SALVADA
AIZKORRI ARATZ
UREDERRA
ZUGARRAMURDI CAVES - CUEVAS DE ZUGARRAMURDI
IRATI FOREST - SELVA DE IRATI
BAZTAN
DIASPORA
Look up the map where you can find a Basque house in the world.
Mira en el mapa donde puedes encontrar una casa vasca en el mundo.
OUR CITIES - NUESTRAS CIUDADES
BILBAO
Bilbao is located on the Eastern Atlantic seaboard, in the Spanish State, and stands 19 m above sea level, covering a surface area of 41.6 km2. It has important transport infrastructures that provide connections to the main cities in Europe by land, sea and air. The capital of Bizkaia/Biscay stands at the heart of a metropolis with over 1,000,000 inhabitants. Founded in 1300, it is the main axis of socio-economic development and the key factor in the modernisation of the territory.
WEB
BILBAO
Bilbao se halla en la vertiente atlántica oriental de la Península Ibérica a 19 m sobre el nivel del mar, con una superficie de 41.6 km2. Posee una importante infraestructura de transportes que conecta con las principales capitales de Europa, por tierra, mar y aire. La capital vizcaína es el corazón de una metrópoli de más de 1.000.000 hab. Fundada en 1300, es eje principal del desarrollo económico-social y factor base de la modernización de la provincia.
WEB
DONOSTIA
San Sebastián is a medium-sized city with almost 186,000 inhabitants. It is a tertiary, tourist city, eminently commercial, with strong emphasis on services and congresses. In recent years, San Sebastián has moved into the leading position among European cities, largely because of its commitment to science, technology, sustainable development and culture. Its designation as European Capital of Culture confirms this pledge.
DONOSTIA
Donostia / San Sebastián es una urbe de tamaño medio, con 185.000 habitantes. Es una ciudad terciaria, turística, eminentemente comercial, de servicios y de congresos. Durante los últimos años, Donostia / San Sebastián se ha situado a la vanguardia de las ciudades europeas que basan su desarrollo en un apoyo integral hacia la ciencia, la tecnología, el desarrollo sostenible y la cultura. Su nombramiento como Capital Europea de la Cultura en 2016 refrenda esta decidida apuesta de la ciudad.
WEB
VITORIA GASTEIZ
It stands in the middle of the Llanada Alavesa, on the road that joins Madrid to the rest of Europe, via the N-1 highway. The city has always been a major stopping place on this important communications route and has acted like a bridge between Europe and the rest of the Iberian Peninsula. The city is less than an hour from Bilbao, one hour from Pamplona, two hours from Santander, three hours from Zaragoza and less than four hours from Madrid.
VITORIA GASTEIZ
Se encuentra situada en medio de la Llanada alavesa, en el camino que une Madrid al resto de Europa a través de la N-1. La ciudad ha sido siempre eje de comunicaciones, ruta abierta y puente entre Europa y el resto de la península. Se halla a menos de una hora de Bilbao, a una hora de Pamplona, a dos horas de Santander, a tres horas de Zaragoza y a menos de cuatro horas de Madrid.
PAMPLONA IRUÑA
Pamplona sits in the middle of the map of Navarre. It is located on a plateau 449 metres above sea level. It covers 23.55 square kilometres.
Mountains
Pamplona and its district is located in a mountain belt with a height of around 1,000 metres. The mountains nearest to the city are San Cristóbal (892 metres), Campamento (528), Badostáin (590), Tajonar (668), Gazólaz (534), Errakobide (466), Santa Lucía (470) and Cascajo (450).
Rivers
The Arga, Elorz and Sadar rivers run through Pamplona, but it also has a number of streams, such as Santa Lucía, San Macario, Lezkairu, Garitón de Ripalda or the one in the Municipal Nursery.
PAMPLONA IRUÑA
Pamplona ocupa un lugar céntrico en el mapa de Navarra. Está situada en una meseta de 449 metros de altitud sobre el nivel del mar. Consta de 23,55 kilómetros cuadrados de extensión.
Pamplona y su comarca se encuentran en un cinturón montañoso con una altitud en torno a los 1.000 metros. Los más cercanos a la ciudad son San Cristóbal (892 metros), Campamento (528), Badostáin (590), Tajonar (668), Gazólaz (534), Errakobide (466), Santa Lucía (470) y el Cascajo (450).
Los ríos que discurren por Pamplona son Arga, Elorz y Sadar, pero también cuenta con regatas como Santa Lucía, San Macario, Lezkairu, Garitón de Ripalda o la de los Viveros Municipales.
BASQUE LESSONS - LECCIONES DE EUSKERA
Find attached link to learn basic Basque, it is not as difficult as it seem, come on try it!
Haz click en el siguiente enlace para aprender unas lecciones básicas de Euskera, no es tan difícil como parece, ¡Vamos, inténtalo!